Don't be fooled by the Naira biggest black Market gain in a year
The rally, sparked by increased sales of foreign-exchange forwards and looser capital controls, is contingent on the central bank continuing to sell down its reserves. And until it devalues or makes a clear switch to a free-floating currency, Africa's most-populous country will struggle to lure back foreign investors, according to JPMorgan Chase & Co. and Renaissance Capital.
Forwards suggest more declines to come, investors are shunning naira assets, and a web of alternative exchange rates only adds to the confusion over the currency's real value. 
After sales of $600 million of one- and two-month forwards last week, the naira's black-market rate rose 13 percent to 460 per dollar from an all-time low of 520. It appreciated another 2.2 percent to 450 on Monday after the central bank sold $100 million of 60-day forwards. That narrowed the gap with the official rate, which the central bank has kept at around 315 since August, to the smallest since September.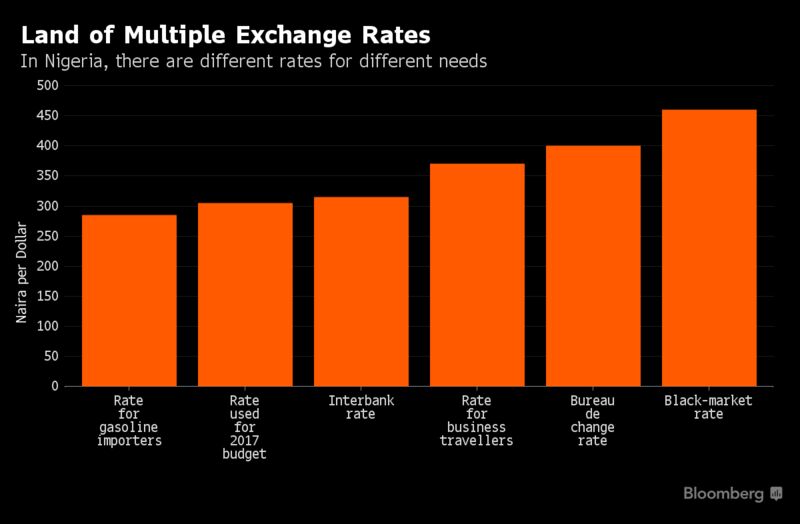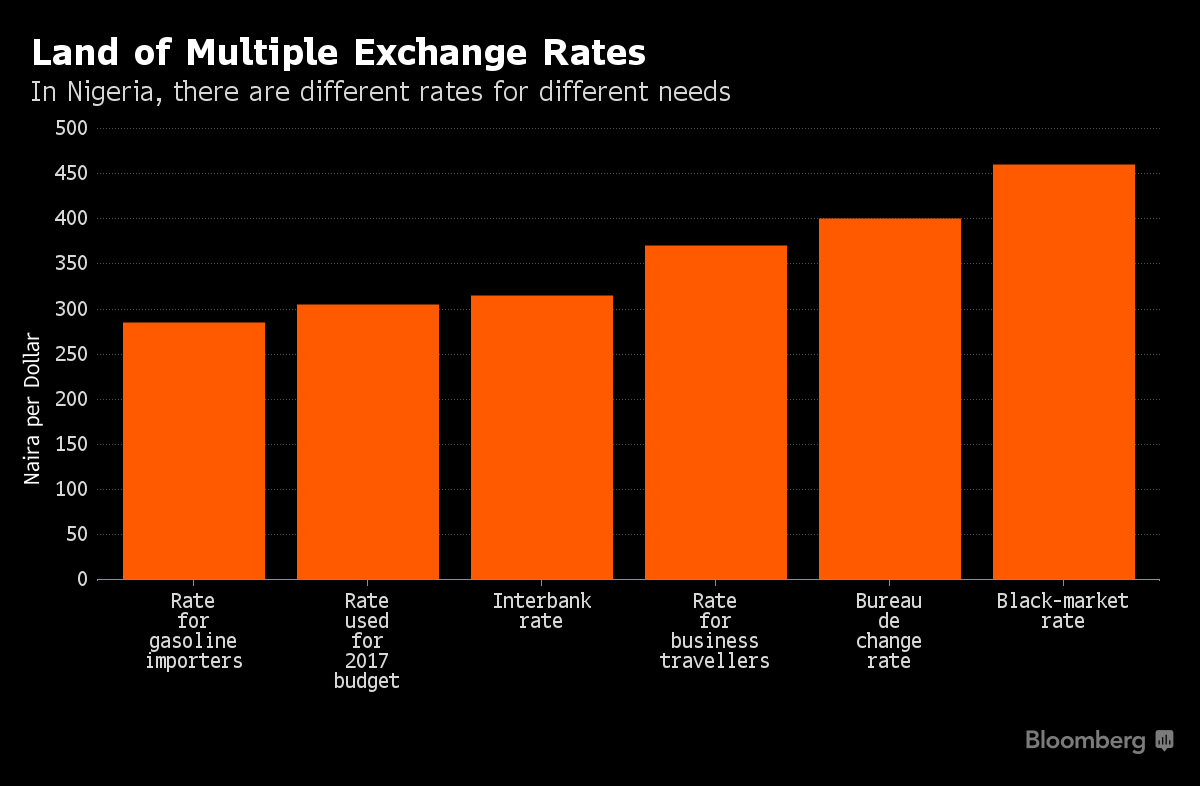 The number of exchange rates in the country "further complicates" an already convoluted system, according to John Ashbourne of London-based Capital Economics. Nigeria, which has always managed its currency tightly, charges people different prices for foreign exchange depending on their needs. Last week, Nigerians going on business trips abroad or paying overseas medical and school bills were lured away from the black market with a rate 20 percent above the official interbank level, equating to about 375 per dollar.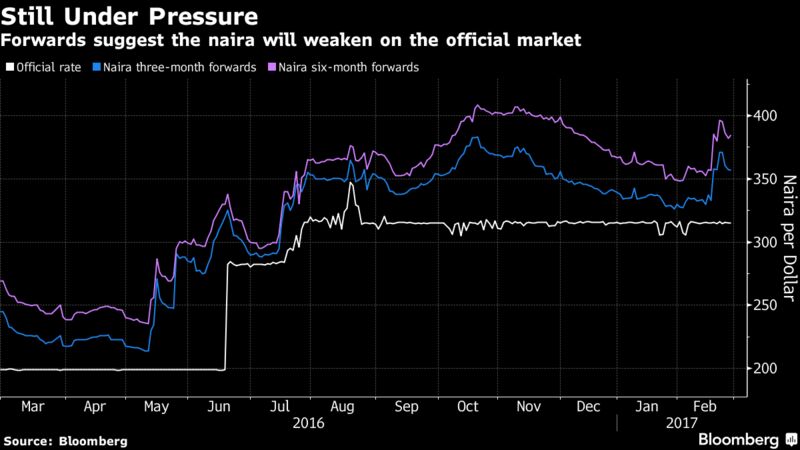 Even after the rebound, the currency remains 30 percent weaker on the black market than on the official one. Naira forward contracts maturing in three months trade at 355 per dollar, suggesting the currency will drop 11 percent in the period. Naira six-month contracts are quoted at 382.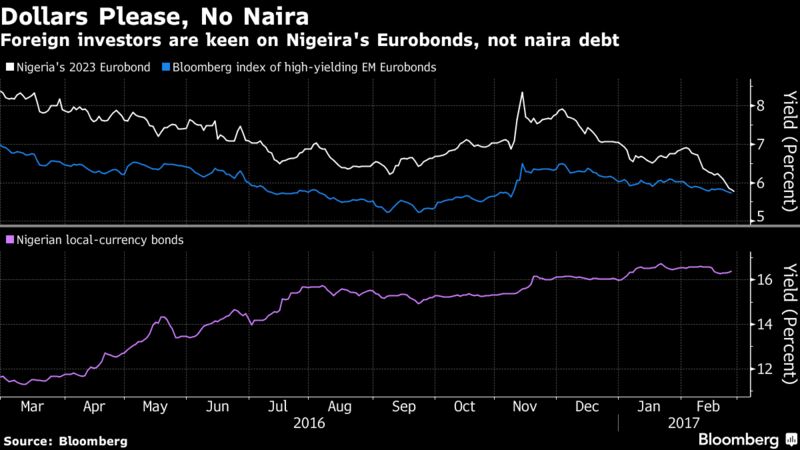 Nigeria's Eurobond yields have dropped to the lowest since May 2015, showing that investors are keen to get more exposure to the nation amid higher oil prices and waning pipeline attacks by militants in the Niger River delta. It's a different story for naira-denominated assets. Local-currency bonds average 16.5 percent, the second-highest after Egypt among 31 major emerging markets tracked by Bloomberg.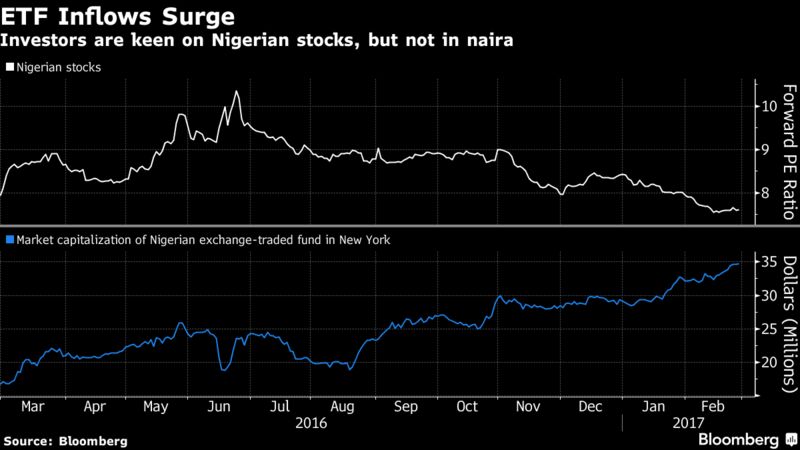 It's the same story with equities. Nigerian stocks, languishing near a 10-month low, are the cheapest in Africa, with a price-to-earnings ratio based on estimates for the next 12 months of 7.6, barely half the level of South Africa. Yet the market capitalization of the dollar-based Global X MSCI Nigeria Exchange Traded Fund, listed in New York, has more than doubled in the last year to $35 million. That suggests investors are keen on Nigerian stocks, just not in naira.