Gambians Flee Country, Brits to be evacuated amid fears of civil unrest
Gambians are Fleeing the home ahead of Barrow inauguration. A worker at The Gambia's main ferry crossing has told the BBC that thousands of people are fleeing every day as they are "afraid of war". Thomas Cook is also flying 1,000 Brit holidaymakers home from Gambia after the Foreign Office warned against all but essential travel.
The operator said 985 UK customers will be flown out of Banjul airport in the next 48 hours including four flights on Wednesday. Thomas Cook said it is contacting a further 2,500 flight-only customers to offer them the earliest flight back to Britain.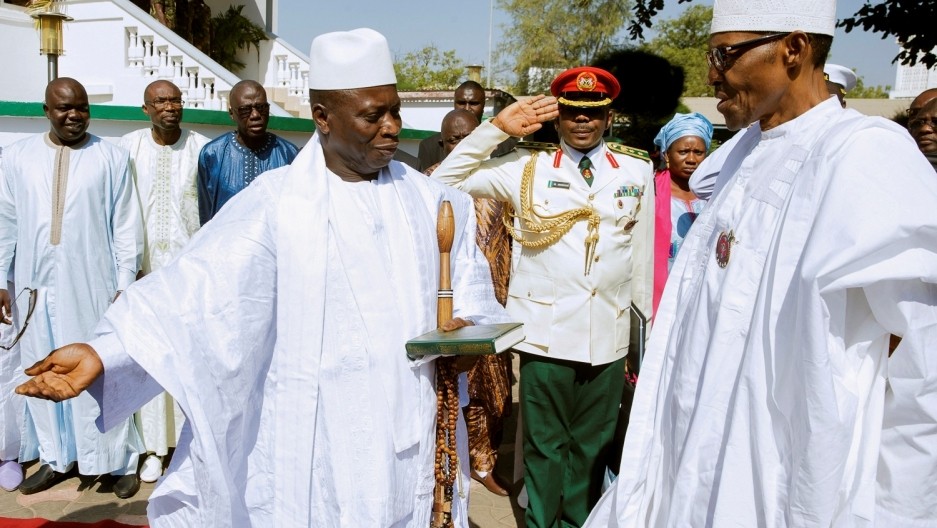 It comes after Gambian President Yahya Jammeh declared a 90-day state of emergency on Tuesday – just two days before he is supposed to cede power after losing elections last month.
Mr Jammeh is refusing to step down despite international pressure and the threat by other west African nations of a military intervention. Adama Barrow, who once worked as an Argos security guard in London, won the elections but has left the country.
Travel advice from the Foreign and Commonwealth Office (FCO) has since been updated, warning of "ongoing political uncertainty and potential military intervention" in the wake of the December elections.
The FCO states: "The potential for military intervention and civil disturbance is high and could result in Banjul International Airport being closed at short notice.
"You should follow events closely, take extra care, keep in regular contact with your tour operator and airline and continue to monitor travel advice and social media updates in case tensions rise as the current political deadlock continues."
It also warns those currently in Gambia to leave by commercial means if they have "no essential need to remain".
Thomas Cook said in a statement: "We are dispatching a special assistance team with our first flight from the UK to provide additional support at Banjul airport for our customers.
"Our colleagues on the ground in Gambia will proactively contact all customers on holiday with us as soon as possible to prepare for the return to the UK. "We are offering free amendments or cancellations for holidays to Gambia up to and including 20th January.
"People are in chaos, people are leaving" as they don't know what is going to happen, an eyewitness said. The Gambia's Chief Justice has declined to rule on an application by President Yahya Jammeh to ban the inauguration of Adama Barrow as his successor. Mr Barrow won the election and an inauguration is planned for Thursday. But Mr Jammeh rejected the result and is refusing to step down until the Supreme Court hears his challenge, in May.